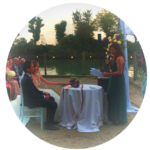 Elisa and Emanuele
Villa dei Mulini – Volta Mantovana (MN)
Symbolic wedding by the river
I met Giorgia by chance. It is difficult to find someone who can perform a ceremony in such a professional  way, who can take the essence of your story and write something that will excite everyone. […]
She was engaged in making the ceremony unique and unrepeatable. I still remember the first time we read the first draft together. Just when I got to the poetry that she dedicated us I took a deep breath (even if I had read it a little earlier) and I concentrated on studying the face of my future husband…he was moved and started crying. The first concern in a symbolic ritual, this was our case since we could not marry with a civil ceremony in the location, and what we are always afraid of is that it was not considered something really serious by some of our relatives and friends because it was not taken at the church or at the town hall. Well, Giorgia has been very careful and despite having many doubtful relatives, everyone, from the first to the last guest, appreciated the symbolic wedding ceremony. Thanks again for making that moment something permanent in our hearts!
Tatiana and David
A civil ceremony at the Town Hall
of Cavaion Veronese (Verona)
We really can't thank Giorgia enough for giving us the wedding of our dreams. Furthermore, Giorgia was extremely knowledgeable on the legal aspects, which was very important for us as I am Italian and my husband is British. Working with Giorgia was the best decision we ever made!
Barbara and Luca
A symbolic ceremony at
Lonato Castle near Lake Garda
Top service and gorgeous wedding!
Giorgia is very elegant and professional! She inspires serenity and calm. We can not help but recommend her services.
Monica and Stefano
A symbolic wedding in the wood
Villa Schiarino Lena - Mantova
Giorgia accompanied us in the preparation and creation of the symbolic ceremony for our wedding. She drafted the text of the ceremony for us, integrating all our ideas, thus making it very personal. She also celebrated the ceremony for us, she was able to better manage every moment making it a ceremony full of emotions. We advise all couples who want to perform a unique and personal ceremony to contact Giorgia!
Michela and Emanuele
A symbolic ceremony in the wineyards
in Padenghe sul Garda (Brescia)
We addressed to Giorgia as we were looking for someone who would take care of the celebration of our symbolic ceremony. We are not catholic, but we wanted to make our loved ones to be part of our union in a more personal way than a standard ceremony, so we thought of creating something special for that day. Giorgia was able, with great professionalism, to create a personalized text, inserting our promises and the speeches of the witnesses, everything was really exciting. The ceremony was very touching and all our guests were very impressed!
Dasha and Peter
A symbolic wedding with a breathtaking view
on Garda Lake - Torri del Benaco (Verona)
What a beautiful wedding day on Lake Garda! Thank you for celebrating our symbolic wedding  at the castle with an amazing view on the Lake!
Andrea and Ivan
An elopement with civil wedding ceremony
at Juliet's House in Verona
Dear Giorgia,
Thank you so much. We have such beautiful memories of this city we are still in love with. Thank you once again.
Yvonne and Marco
Civil wedding ceremony on the amazing Isola del Garda
San Felice del Benaco (Brescia)
Giorgia went to great lengths to be of service, we thought many many times – whether it was weekend Skype calls or even upgrading her German so she could be my official translator for the ceremony. How amazing and personal was that, I thought, I really appreciated it. We all cried together at the exchanging of rings. We even included pictures of that into our wedding book. As a person, Giorgia is professional, yet personal; she is efficient and super reliable yet always has time for you and your concerns (some of them justified but many just pure emotions and nerves). She relates to you and all the big and small worries – and manages to calm you down with her professional advice and kind words. For us, that was the perfect way of doing things, we could not have asked for more. We are grateful that she was part of our journey and will forever remember. Many thanks and heartfelt wishes, and to the next couple on their journey – be assured you are in best hands! You can lean back and enjoy the ride, it will be fantastic!
Ulrike and Anders
A Civil Ceremony at the town hall in
Limone sul Garda (BS) and elopement in Malcesine
Dear Giorgia,
Everything about the wedding day was fantastic! We really enjoyed the ceremony and the boat trip afterwards to Malcesine was really nice… We are very thankful for all your help to arrange the ceremony in Limone.
Chantal and Matteo
A symbolic wedding on Lake Garda
Pastrengo (VR)
The girl who helped us in the preparation of the symbolic ceremony was very sweet and helpful.
I highly recommend her. She officiated a ceremony full of emotions.
She does her job with passion that is very rare nowadays.
Thanks again.
Kadhija and Andrea
Symbolic Ceremony at the
beautiful Villa Cavriani in Mantova
Thank you for the celebration of our wedding in French and English! Thanks again for everything you have done Giorgia !!!
Denise and Claudio
A civil wedding ceremony
in the amazing Villa Negri near Mantova
My husband and I were very happy with the service. Giorgia is very kind, ready to meet every need of the couple. We have been followed from the beginning to the end of the organization with great attention and respect, especially in the last moments before the ceremony, when we begin to feel anxious.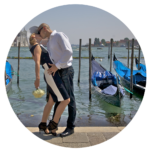 Martina and Jindrich
A civil wedding ceremony at Palazzo Cavalli
and elopement in Venice
Venice is such a romantic city! We enjoy very much our wedding day.
Thank you for helping us with the legal aspects of our wedding and for translating our ceremony in English!
Kim and Sean
A civil wedding ceremony at
Lazise Town Hall on Lake Garda
Thank you for all your help in making our wedding ceremony as hassle and stress free as it was. Thank you for your translation and participation in our day.