Latest from the blog
Marriage is a bold step to be taken hand in hand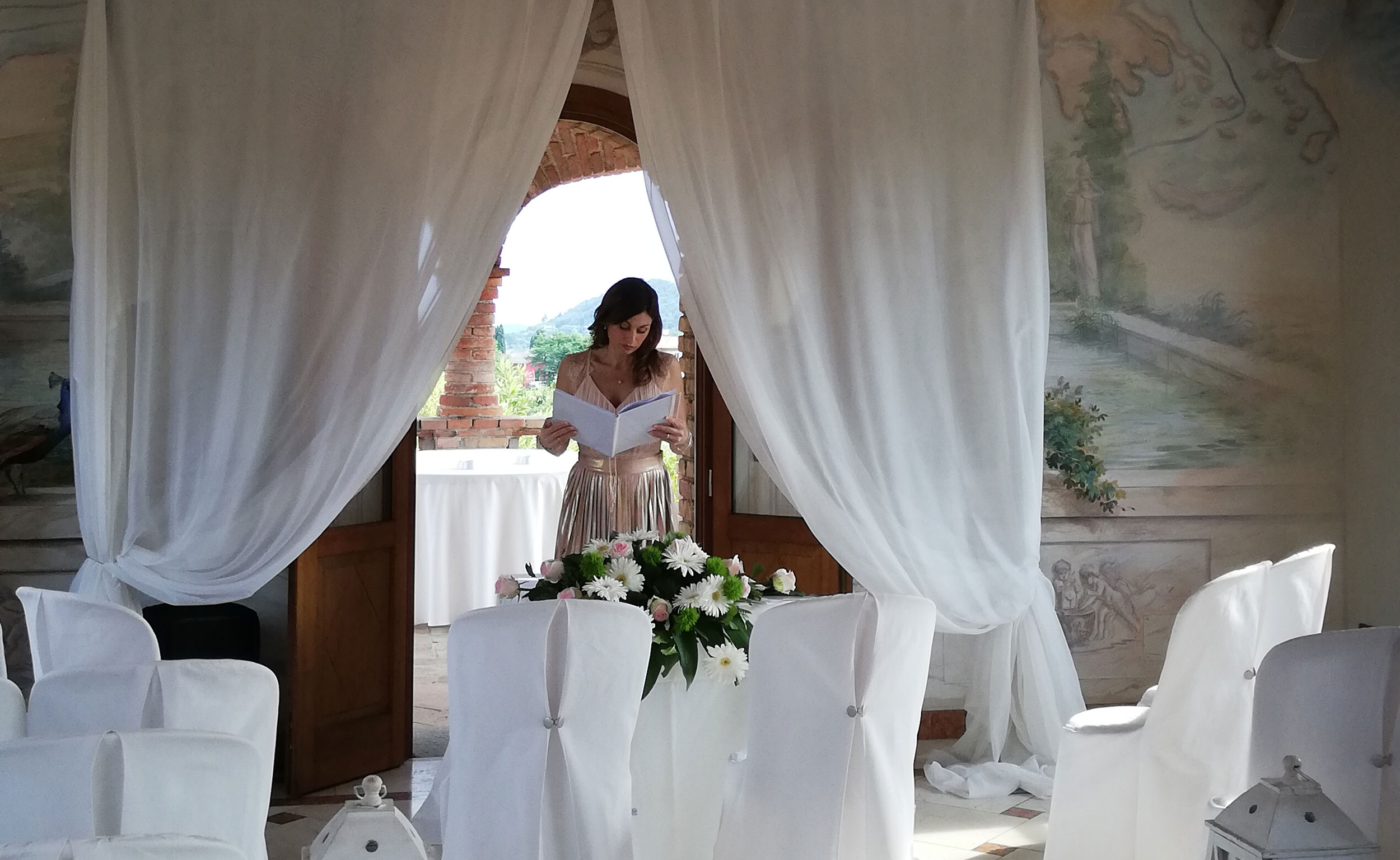 GIORGIA
Hi, I am Giorgia Caramanti. I am a proud wife and a happy mother of a little girl. I want to believe my family name like a prophecy, in Italian it means: "dear to those who love". As a matter of fact, since 2011 I have officiated at more than a hundred weddings in my region. I worked on Lake Garda, Lake Orta, Lake Iseo, in Franciacorta, Mantova and Verona helping couples from UK, Northern Europe, Canada and USA get married.
I am so enthusiastic about your experience here!
I write and perform wedding ceremonies in the North of Italy. You travel to Italy and your love dream comes true in my amazing country. At the same time, your international event with your beautiful story behind is a journey for me, as well.
I am a visionary.
I mean that when I know you I have an immediate intuition of what you are looking for your big day and how your ceremony will look like. It is a sparking glimpse.
I love listening to your story .
I take the time to get to know you. Your likes and your dislikes. Your wishes and your needs. We discover together your deep identity as a couple, your uniqueness. Only when we are connected I can paint the picture with you and I finally write your wedding ceremony text.
I have a calming power.
Most of my clients describe their wedding experience with me as light-hearted with a professional officiant they can rely on.
Poetry is my language.
And beauty is a delight for my soul. I find it in a flower, in a daily object, in a face, in a landscape, in sounds and words. It can be everywhere.I can see it also in little things that at first sight seem to be imperfect like the yellowed page of a book or the raindrops on a window. In my opinion, weddings are the best occasions for beauty to appear.
KIND WORDS
Giorgia was extremely knowledgeable on the legal aspects, which was very important for us as I am Italian and my husband is British. Working with Giorgia was the best decision we ever made!
As a person, Giorgia is professional, yet personal; she is efficient and super reliable... She relates to you and all the big and small worries – and manages to calm you down with her professional advice and kind words.
I met Giorgia by chance. It is difficult to find someone who can perform a ceremony in such a professional way, who can take the essence of your story and write something that will excite everyone. […] She was engaged in making the ceremony unique and unrepeatable. I still remember the first time we read the first draft together.